Single & Three Out Door Oil Cooled Voltage Transformer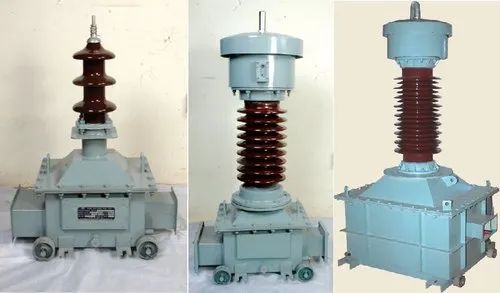 Business Type
Manufacturer, Exporter, Supplier, Retailer, Wholesaler
Country of Origin
India
Weight
10-20kg
Voltage
110V
Click to view more
Following are main factors for selecting Voltage Transformer.
Service Voltage:System Voltage in which V.T is to be installed e.g. 11kv, 22kv, 33kv etc.
Installation:Whether OUTDOOR or INDOOR
Atmospheric Conditions:Such as condition of Pollution, Altitude, Ambient Temperature etc.
Insulation Level:If insulation level other than associated with service voltage is required, it should be specifically mentioned.
Rated Primary Voltage:Rated primary voltage is generally rated system voltage for unearthed type V.Ts. and rated system voltage divided by square root of three for earthed type V.Ts. The V.Ts. can be manufactured suitable for more than one system voltage. In such cases, different primary voltages required may be indicated.
Rated Secondary Voltage:Standard Values of Secondary voltages are 110v or 110v/\13 depending on application of the secondary winding. V.Ts. with different secondary voltages other than those mentioned above can be manufactured and supplied.
Voltage Factor:All V.Ts, are manufactured suitable for continuous voltage factor of 1.2. As per I.S. / L.E.C. Specifications, short time voltage factor is different for different earthing systems. Therefore appropriate system earthing conditions may be specified.
Number of secondary windings. Their burdens & accuracy classes:Number of secondary windings, their burdens and accuracy classes are selected on the basis of application. Two types of classes are available, one for metering and other for protection. Unlike current transformers, accuracy of one winding is influenced by loading of other winding. Due to this reason burden of each winding should be correctly mentioned. Accuracy of V.T. is guaranteed at the secondary terminals of the V.T. The impedance of cable connecting secondary terminal to load (Relay or Meter) offers series drop in output voltage. This causes additional errors in secondary winding at the measuring end of cable and is proportional to the load on the secondary. Therefore, it is advisable to select separate metering and protection winding. Alternatively, single winding can be used for metering and protection if separate cables are used for connections. (Cable of 4 sq. mm. cross section offer 2% voltage drop at 100 metres distance will 100 VA burden for secondary voltage of 110v/A).
Looking for "
Single & Three Out Door Oil Cooled Voltage Transformer

" ?
Piece